Home • About • Spank My Monkey: The Full Story • Media • Spank My Monkey Photo • PowerTV • Tenneco • Anti-Christ of the Hot Rod World Video • Richard Rawlings • Corky Coker • David Coker • SEMA • The Learning Channel • The Bullrun • Dodgy Monkey Media • Is that Fake Rust? • It Looks Like... • Sponsors • Comic Gallery • The SpankMaker • Parody and the Law • Legal Action • How You Can Help
---
About SpankMyMarketer.com
SpankMyMarketer.com was launched in response to a deceptive advertising campaign used on the Hotrodders.com forums by marketers involved with Gas Monkey Garage, Coker Tire, Newstalgia Wheel, SEMA (the Specialty Equipment Market Association), and The Learning Channel. For more information, see The Full Story.

SpankMyMarketer.com weaponizes laughter to reverse the flow and purpose of manipulative marketing campaigns. Underhanded advertisements are reverse-engineered to create opposing subvertisements. Failed marketing promotions are carefully documented, and the offending marketers are subjected to public "spankings" as members of their targeted demographic are encouraged to parody them with SpankMyMarketer.com's parody-creation tool: The SpankMaker.

SpankMyMarketer.com is parody, culture jamming, and guerrilla communication.

SpankMyMarketer.com takes its name from the ill-fated Spank My Monkey marketing campaign...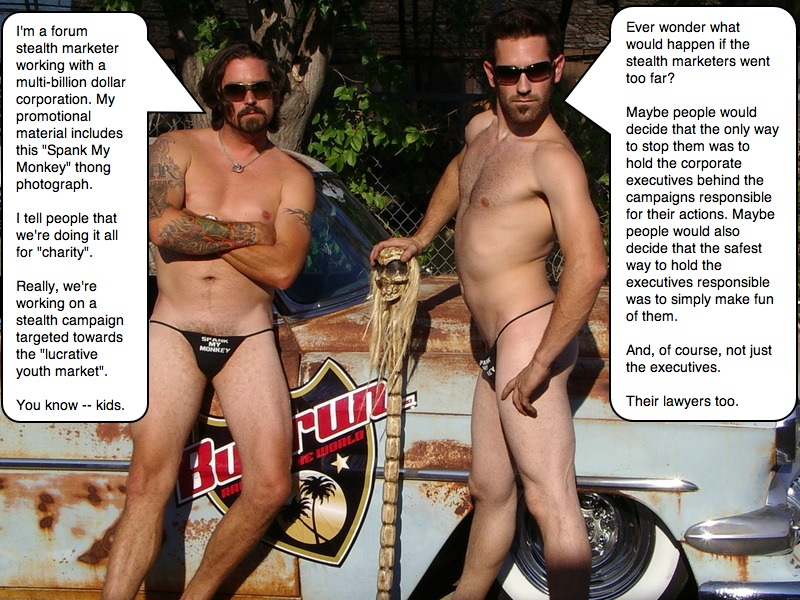 To make your own parody comics of the Spank My Monkey photograph, check out The SpankMaker.




Related Information on SpankMyMarketer.com