Home • About • Spank My Monkey: The Full Story • Media • Spank My Monkey Photo • PowerTV • Tenneco • Anti-Christ of the Hot Rod World Video • Richard Rawlings • Corky Coker • David Coker • SEMA • The Learning Channel • The Bullrun • Dodgy Monkey Media • Is that Fake Rust? • It Looks Like... • Sponsors • Comic Gallery • The SpankMaker • Parody and the Law • Legal Action • How You Can Help • Submit a Marketer • Feedback
---
The Spank My Monkey Photograph
Here's the Spank My Monkey photograph, which was used to spam the Hotrodders.com forums in a failed marketing promotion involving Gas Monkey Garage, Coker Tire, Newstalgia Wheel, SEMA (the Specialty Equipment Market Association), and The Learning Channel. (For more information, see: The Full Story.)

The photo was posted by Dodgy Monkey Media,[1] on behalf of Gas Monkey Garage. The gentleman with his arms crossed is Richard Rawlings, owner of Gas Monkey Garage. Rawlings is wearing women's thong underwear, available online from the Gas Monkey Garage store.[2] The thong underwear is emblazoned with his garage's slogan: "Spank My Monkey". Below Rawlings's crotch is the logo for the Bullrun rally, which he represents.[3]

"Spanking the monkey" is a slang phrase for male masturbation, similar to "choking the chicken", or "flogging the dolphin".[4][5] Gas Monkey Garage's slogan is the equivalent of the phrases "Jerk Me Off" or "Masturbate Me".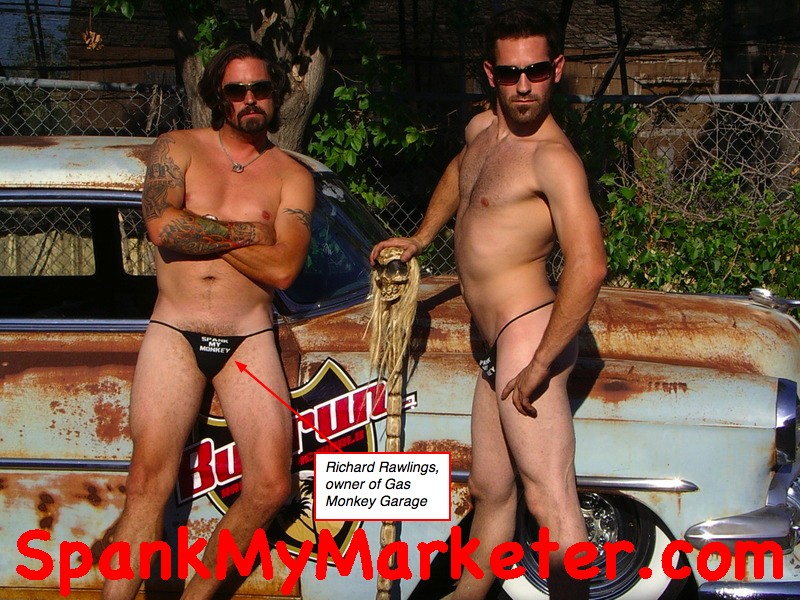 To make your own parody comics of the Spank My Monkey photograph, check out The SpankMaker.



Related Information on SpankMyMarketer.com



References