Home • About • Spank My Monkey: The Full Story • Media • Spank My Monkey Photo • PowerTV • Tenneco • Anti-Christ of the Hot Rod World Video • Richard Rawlings • Corky Coker • David Coker • SEMA • The Learning Channel • The Bullrun • Dodgy Monkey Media • Is that Fake Rust? • It Looks Like... • Sponsors • Comic Gallery • The SpankMaker • Parody and the Law • Legal Action • How You Can Help • Submit a Marketer • Feedback
---
The Learning Channel
This is the Board of Directors of Discovery Communications, a global media and entertainment company.

Discovery Communications is the parent company of dozens of television network brands, including The Discovery Channel, Animal Planet, and The Learning Channel.[1]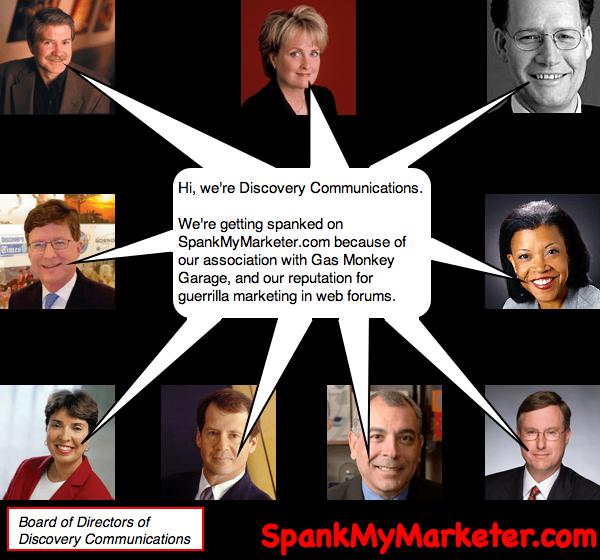 To make your own parody comics of Discovery's Board of Directors, check out The SpankMaker.




Guerrilla Marketing
Discovery Communications has an established and well-documented reputation for using guerrilla marketing tactics to promote television shows.[1][2][3][4] They've even been accused of spamming message forums with shills posing as fans of television shows.[5]

In January of 2007, a "bomb scare" in Boston turned out to be a guerrilla marketing campaign by Interference, Inc., a marketing firm whose mission statement is "To create the best Guerrilla and Alternative marketing company in the world".[6] Interference, Inc. claims "alternative Internet marketing" as one of their areas of focus.[6] Discovery is a client of Interference, Inc., and, on the website of Interference Inc., two out of the five published case studies are for marketing campaigns associated with Discovery Channel shows.[6][7][8][9] In addition, this screenshot from Interference Inc.'s website is very thought-provoking.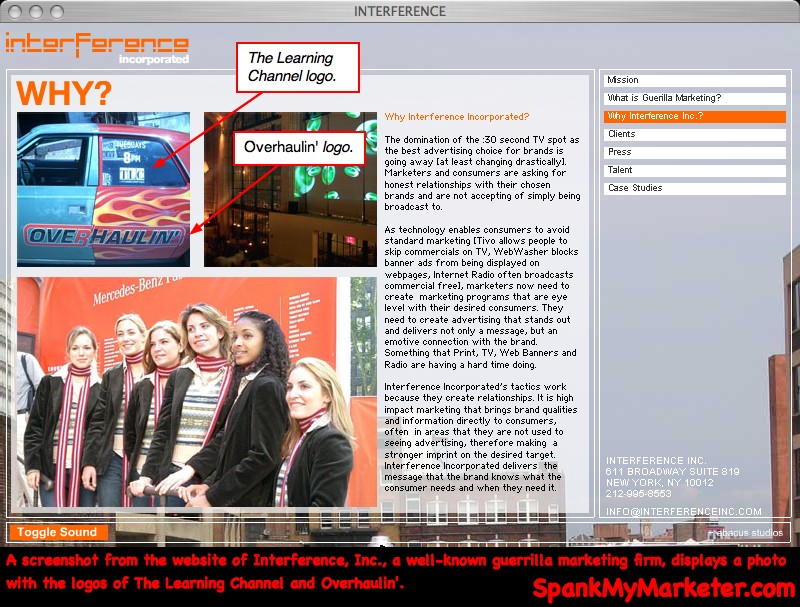 Advertiser Funded Programming
Discovery Communications is noted for the use of advertiser funded programming on its TV channels. Advertiser funded programming, or "AFP", is a new method of advertising in which advertisements are scripted directly into episodes of television shows, rather than in separate commercials. Discovery's focus on AFP even extends to employing experts who work solely on creating AFP shows.[10]

For example, one company that produces automotive AFP shows is RTM Productions, a Tennessee-based television production studio that describes itself as "America's leading producer of automotive television programs".[11]

On RTM Productions's website for PowerBlockTV, a popular series of hot rod shows, prospective advertisers are attracted with the following sales pitch: "From cams to lubricants, exhaust systems to seat covers, the producers of Powerblock TV can tailor show content to benefit your bottom line!".[12]

Overhaulin' is an automotive television show on The Learning Channel, one of Discovery's television channels. On Overhaulin', automotive celebrities participate in scripted hot rod "builds" involving sponsors' parts.[13][14]

Overhaulin' involves advertisements from many businesses in SEMA, the Specialty Equipment Market Association.[13] Special SEMA-oriented episodes of Overhaulin' have even been filmed on the floor of the convention center at the annual SEMA Show.[15][16] (For more information on SEMA, see: SEMA.)


The Spank My Monkey/Anti-Christ Promotion
On August 20, 2006, an automotive marketer named Stephen Andrews (posting under the username "dodgy"), spammed the forums of Hotrodders.com with a promotion for Gas Monkey Garage.[17] The first piece of promotional material was a photograph of Gas Monkey Garage shop owner Richard Rawlings, and his shop manager, posing in women's thong underwear imprinted with the phrase: "Spank My Monkey" (slang for "Masturbate Me").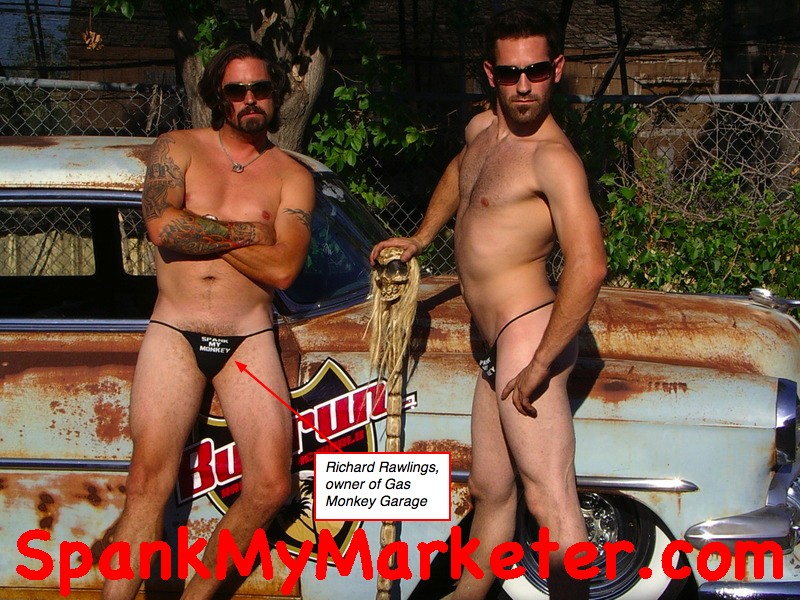 Also included was a shop video that featured shots of drinking and driving, urinating in the street, and a scene in which Rawlings declared that he was "The Anti-Christ of the Hot Rod World". (For more information, see: Spank My Monkey thong photograph and Anti-Christ of the Hot Rod World video.)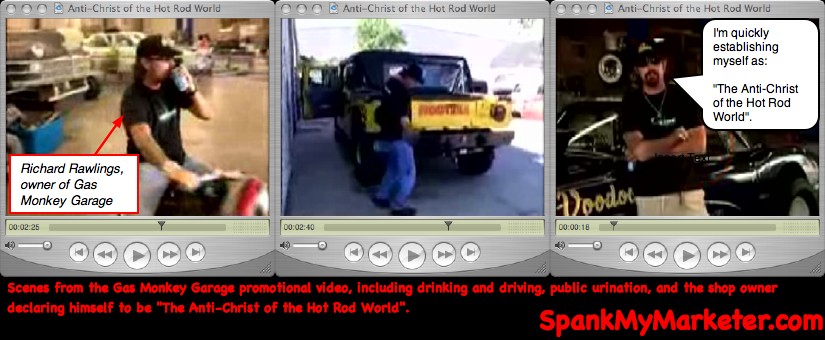 Stephen Andrews and Discovery
The "odd" choice of promotional material would spark an immediate investigation of the involved marketers. Stephen Andrews ("dodgy") was discovered to have posted on other forums, most notably NobleForums.com, forums for owners of Nobles, a type of British supercar. On NobleForums.com, Andrews had made hundreds of posts, including frank discussions of his latest marketing ventures.[18]

Andrews knew Richard Rawlings of Gas Monkey Garage through their participation in celebrity car rallies such as the Bullrun and the Gumball 3000, a cross-country rally that went from New York to the Playboy Mansion in Los Angeles.[19] Rawlings is a spokesman for the Bullrun rally, and a prominent participant in the Gumball 3000. The Bullrun, whose logo appears between Richard's legs in the Spank My Monkey photograph, describes itself as: "the most glamorous and high profile of the new breed of high-end 'luxury lifestyle' automotive rallies", and claims to bring together "a celebrity strewn cast of characters and 'petrosexuals' for an unforgettable adventure".[20] (For more information, see: The Bullrun.)

In the photo below, Stephen Andrews is seen with his Noble M400 sports car in the 2006 Gumball 3000 rally. En route to the Playboy Mansion, Andrews stops for a photo opportunity with his official Gumball 3000 "co-pilot", Playboy "Cyber-Girl" Jessica Kramer.[21][22][23][24]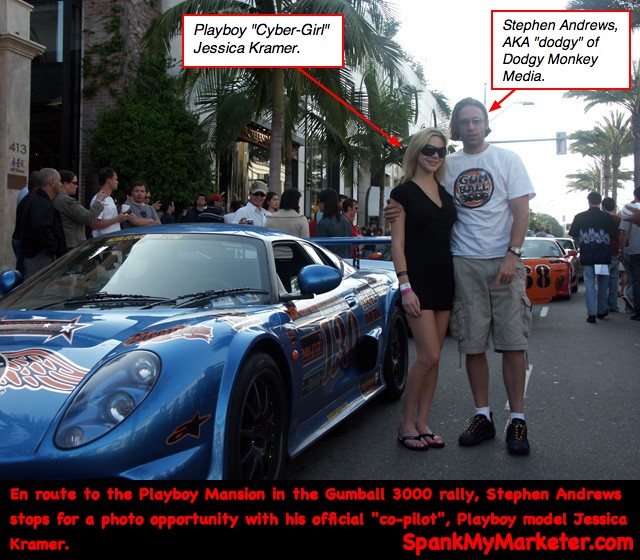 On February 2, 2006, Andrews had posted on NobleForums.com, asking if anyone had "a contact at The Discovery Channel".[25] In July of 2006, Andrews posted again on NobleForums.com, saying that he had "started a production company", and asking for feedback on the Anti-Christ of the Hot Rod World video.[26] By that time, Gas Monkey Garage's website, GasMonkeyGarage.com, indicated that they would be appearing on episodes of Overhaulin', and even displayed the logos for Overhaulin' and The Discovery Channel. In a fitting act of irony, Andrews had named his new production company "Dodgy Monkey Media". (For more information, see: Dodgy Monkey Media.)

This was not the first time that marketers associated with Discovery had "visited" the Hotrodders.com forums in connection with hot rod-themed shows appearing on Discovery television channels.[27] However, in light of the Spank My Monkey photograph, and the Anti-Christ of the Hot Rod World promotional video, Hotrodders.com appealed to Discovery Communications.

When Discovery was asked about their ties to the Spank My Monkey/Anti-Christ guerrilla marketing campaign on forums, they wouldn't offer a reasonable explanation. Specifically, Discovery refused to confirm or deny that they had had a relationship with Andrews, or that they had known about the Spank My Monkey/Anti-Christ promotion. They also neglected to mention any ties to Interference, Inc. Repeated inquiries about their ties to Andrews would result in Discovery refusing to return phone calls from anyone at Hotrodders.com.


The Discover-Up
Faced with a public relations fiasco over the failed Spank My Monkey/Anti-Christ promotion, Discovery embarked on a series of cover-ups apparently designed to conceal their involvement in the marketing campaign, and their use of unethical guerrilla marketing tactics.

First, all episodes of Overhaulin' which featured Gas Monkey or Richard Rawlings were quietly pulled from the air.

Within the week, the Discovery and Overhaulin' logos had disappeared from GasMonkeyGarage.com.


| | | |
| --- | --- | --- |
| Before | | After |
| | | |

Shortly after the initial publication of this article on SpankMyMarketer.com, the Wikipedia entry on The Discovery Channel was significantly "re-worked" to be more favorable to The Discovery Channel. Most notably, someone deleted the information on Discovery Communications's reputation for employing guerrilla marketing tactics, which is referenced in the third sentence on this page, and had been initially published in Wikipedia in October of 2005.

The pro-Discovery editing and the deletion of the reference to guerrilla marketing are clearly documented on Wikipedia's history page for the Discovery Channel entry. These edits can be seen in a side-by-side comparison of the entries, or by reading the before and after versions of the Wikipedia entry on The Discovery Channel. Wikipedia documents those specific changes as having been made by a user posting from the IP address 198.147.10.56.

Public DNS information reveals that the IP address 198.147.10.56 is registered to Discovery Communications: http://www.dnsstuff.com/tools/whois.ch?ip=198.147.10.56. After intervention by Wikipedia administration, Discovery was reprimanded by Wikipedia administration, both in an official Wikipedia hearing, and with a final warning.

Finally, a strange new forum would suddenly appear in the wake of the Spank My Monkey/Anti-Christ scandal: OverhaulinForums.com. The forum had been seeded with oddly pro-Overhaulin' posts, such as one in which the forum administrator declared: "I love Chips Foose's work, I love the effort of all the team, I love the pranks, and I love the outcome virtually everytime. Thank you TLC for making one of the greatest shows on television." The domain name OverhaulinForums.com had been registered by a "Private Registrant".

When Discovery was questioned about their connection to OverhaulinForums.com, they insisted that they weren't even aware of its existence. To demonstrate this, they pointed out a disclaimer at the bottom of all OverhaulinForums.com webpages, which read: "Overhaulin' Forums is not affiliated with TLC's Overhaulin'."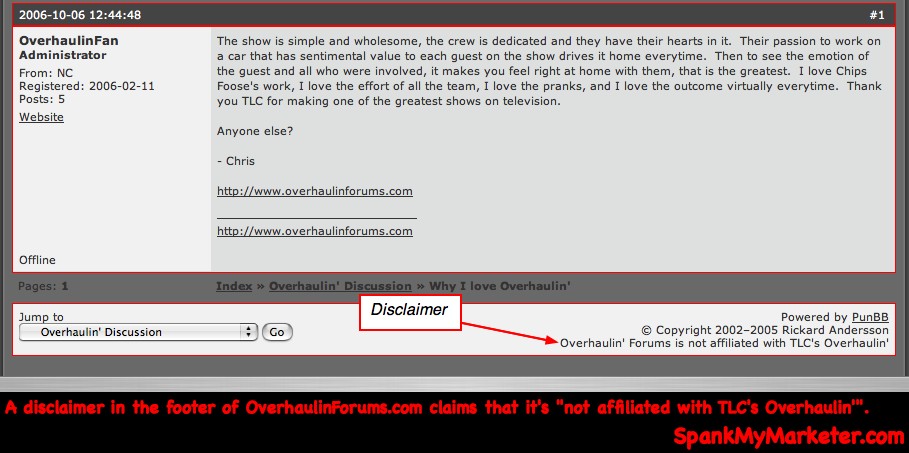 Investigation would demonstrate that, despite Discovery's claim of not being aware of OverhaulinForums.com, it had been announced on the "official" Overhaulin' forums on Discovery.com. In the announcement, forum visitors were encouraged to visit OverhaulinForums.com so that they could: "generate more community and love for this great car show and the Overhaulin' Family!"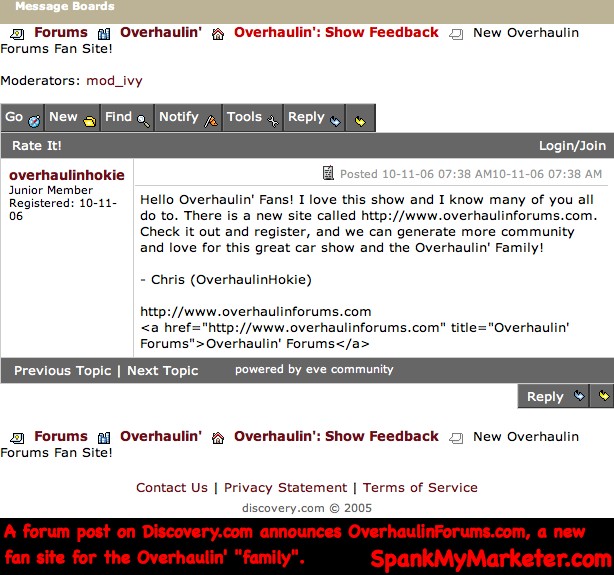 Once SpankMyMarketer.com was published, some changes were quietly made to OverhaulinForums.com. First, the announcement on Discovery.com which encouraged people to visit OverhaulinForums.com was removed. Then, the disclaimer at the bottom of OverhaulinForums.com vanished. Now, at the bottom of OverhaulinForums.com pages, it no longer says: "Overhaulin' Forums is not affiliated with TLC's Overhaulin'". Instead, some of Discovery's copyrighted images are displayed in the footer.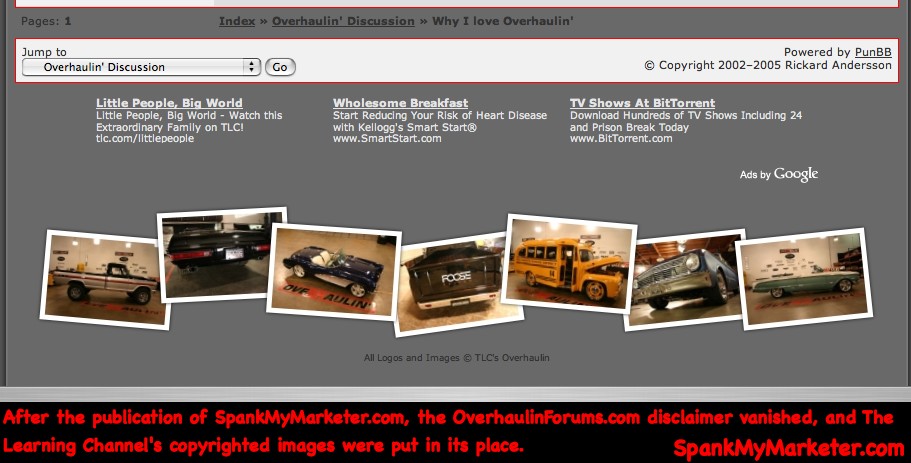 Was the marketer who posted the Spank My Monkey photo and the Anti-Christ of the Hot Rod World video working for Discovery all along?

Why did Discovery try to cover-up their involvement in guerrilla marketing by editing their own Wikipedia article?

Did Discovery then try to secretly launch their own fan forum, at OverhaulinForums.com?

Why is the Overhaulin' logo displayed on the website of Interference, Inc., a controversial guerrilla marketing firm? Was Interference involved in the Spank My Monkey/Anti-Christ campaign, and/or the subsequent cover-up?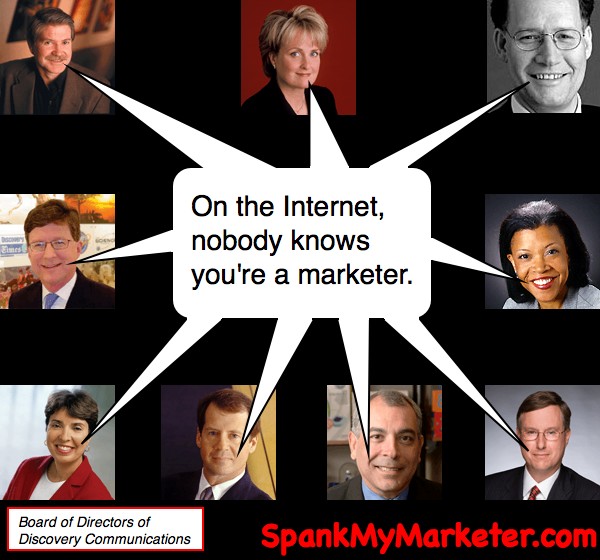 To make your own parody comics of Discovery's Board of Directors, check out The SpankMaker.




Discovery Attempts to Silence SpankMyMarketer.com
In an attempt to silence SpankMyMarketer.com, a lawyer for Discovery Communications has demanded that the photograph template of the Board of Directors of Discovery Communications be taken off the web.

We have refused to comply.

While the photo is clearly a non-infringing parody, Discovery's lawyer claims that the photograph infringes Discovery's copyright, and is used to defame the company. In light of the baseless legal claims being made by such a large corporation, the net's leading free speech organization, the Electronic Frontier Foundation (the "EFF") has graciously volunteered to provide free legal representation to SpankMyMarketer.com.

For more information, see the EFF press release: Media Giant Bullies Internet Critic, or read about it in the press: SpankMyMarketer.com media page.


Discovery Communications Backs Down from Baseless Legal Claims
After their attempt to silence SpankMyMarketer.com was exposed in the media, Discovery Communications was forced to back down from their baseless legal claims.


Related Information on SpankMyMarketer.com



References