Home • About • Spank My Monkey: The Full Story • Media • Spank My Monkey Photo • PowerTV • Tenneco • Anti-Christ of the Hot Rod World Video • Richard Rawlings • Corky Coker • David Coker • SEMA • The Learning Channel • The Bullrun • Dodgy Monkey Media • Is that Fake Rust? • It Looks Like... • Sponsors • Comic Gallery • The SpankMaker • Parody and the Law • Legal Action • How You Can Help
---
Is that Fake Rust?
Is the rust in the Spank My Monkey photograph real, or was it artificially induced -- for that "rat rod" look?

The "rust" has been called into question in discussions on the Hotrodders Bulletin Board. In particular, the unusual streaking patterns of the rust appear too abnormally random to have been formed by natural forces.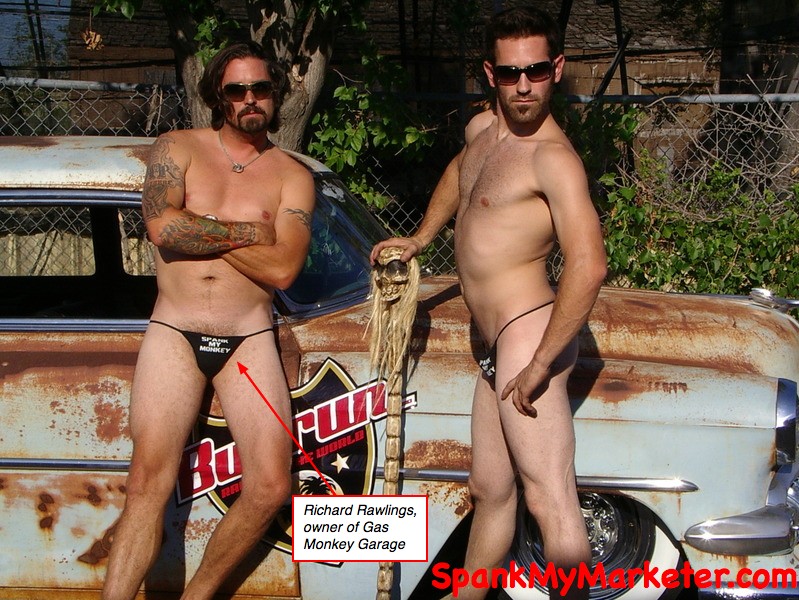 Here are the specific issues that have been raised regarding the "rust" in the Spank My Monkey photograph. Special thanks to Hotrodders Bulletin Board member grouch for being the first to point this out.


The rust drip lines streak in varying directions. Some streak downwards, some diagonally, some backwards -- as if they were windswept.


Some of the rust patches are completely contained, with no streaking whatsoever.


Some of the more circular rust patches have a heavily-rusted center, surrounded by what appears to be feathered edges, "lesser" rusting, and then more feathered edges. One explanation is that they were made with a circular sanding disc. In particular, the oddly circular sections of rust beside Richard Rawlings's calf, in the lower left-hand corner of the photo, seem especially dubious.


What do you think? To send us your opinion on the rust in the Spank My Monkey photograph, use our feedback form. Here are some comments that have been made so far:


A production company once made a commercial at the salvage yard I once worked at, and the Hero car, a '48 Cadillac, received some rust, from a Hudson or garden sprayer in forms similar to the "Zero" car in the Spank My Monkey picture. A DA sander and other sanding devices also look like they were used, along with a mild acid to speed up the rusting process. I have a hard time believing that the rust on that car is genuine 40+ years old. Just my 3 cents. -- "37 year old kid"

With the degree of rust on that car, wouldn't the trim be at least slightly pitted? It looks awful shiny. Notice how the rust dripped and ran under the tip of the belt line piece, yet there is a 1/2" space and then rust on the remainder. Also notice how the "fairy rust" stop at the front lower door edge and did not wander onto the lower fender. -- "tfeverfred"





Related Information on SpankMyMarketer.com