Home • About • Spank My Monkey: The Full Story • Media • Spank My Monkey Photo • PowerTV • Tenneco • Anti-Christ of the Hot Rod World Video • Richard Rawlings • Corky Coker • David Coker • SEMA • The Learning Channel • The Bullrun • Dodgy Monkey Media • Is that Fake Rust? • It Looks Like... • Sponsors • Comic Gallery • The SpankMaker • Parody and the Law • Legal Action • How You Can Help
---
David Coker
Newstalgia Wheel
This is David Coker.

David Coker is the owner of Newstalgia Wheel, a new wheel company in the hot rod industry. David's brother Corky Coker owns Coker Tire, a large tire company. Corky was recently the Chairman of the Board of SEMA, the Specialty Equipment Market Association.[1] (For more information on Corky Coker, see: Corky Coker. For more information on SEMA, see: SEMA. For details on the Spank My Monkey marketing campaign, see: The Full Story.)

To make parody comics of David Coker, check out The SpankMaker.


Anti-Christ of the Hot Rod World Promotional Video
On August 20, 2006, the Spank My Monkey marketing campaign was launched. Internet hot rod forums were spammed with promotional material for a car giveaway at the upcoming SEMA Show.[2] Included in the promotional material was a photograph of two men wearing nothing but women's thong underwear imprinted with the slogan "Spank My Monkey" (a slang phrase for "Masturbate Me"), and a promotional video in which Richard Rawlings, the owner of Gas Monkey Garage, declared that he was "The Anti-Christ of the Hot Rod World". (For more information, see: Spank My Monkey photogrph and Anti-Christ of the Hot Rod World promotional video.)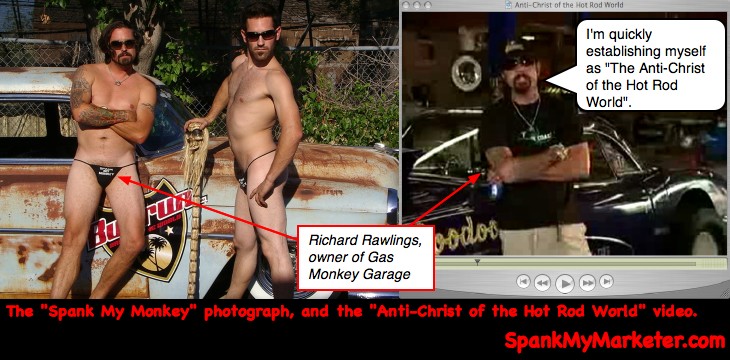 To make parody comics of the Spank My Monkey photograph, check out The SpankMaker.



David Coker's company, Newstalgia Wheel, was featured prominently as a sponsor in the Anti-Christ of the Hot Rod World video. The video featured a car being "built" for David Coker by Gas Monkey Garage. The car displayed the Newstalgia Wheel logo on the door, and David Coker referred to it as the "Gas Monkey Newstalgia". (For more information, see: It Looks Like...)






Deception and Veiled Threats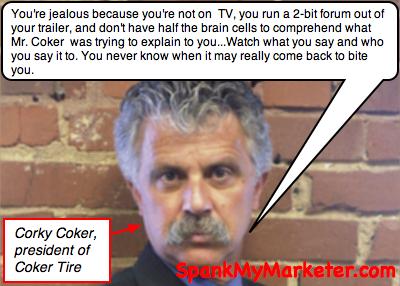 When David Coker was questioned about his involvement in the Spank My Monkey/Anti-Christ campaign, he refused to offer an explanation. Instead, his brother Corky posted publicly about the incident, on the forums of Hotrodders.com.[3] When the forum members were not satisfied with Corky's explanation, a "mystery" user registered on the board. The mystery user posted the forum administrator's personal location details, told him to "watch what you say" because it would "come back to bite you", and made veiled threats to the administrator's safety.[4] When the Hotrodders.com website log evidence revealed that the "mystery" user and Corky Coker had the same IP address,[5] and had been posting from the exact same location, Coker was forced to publicly admit that Coker Tire had been behind the deception.[6] (For more information, see: Corky Coker.)


Related Information on SpankMyMarketer.com



References