Home • About • Spank My Monkey: The Full Story • Media • Spank My Monkey Photo • PowerTV • Tenneco • Anti-Christ of the Hot Rod World Video • Richard Rawlings • Corky Coker • David Coker • SEMA • The Learning Channel • The Bullrun • Dodgy Monkey Media • Is that Fake Rust? • It Looks Like... • Sponsors • Comic Gallery • The SpankMaker • Parody and the Law • Legal Action • How You Can Help • Submit a Marketer • Feedback
---
Discovery Parody Comic: Spank Discovery's Monkey
The board of directors of Discovery Communications performing the famous "Spank My Monkey" line, from the Spank My Monkey photograph used to promote a car giveaway for SEMA, the Specialty Equipment Market Association. "Spank my monkey" is slang for "Masturbate me". For more information on Discovery Communications, the parent company of The Learning Channel, see: The Learning Channel.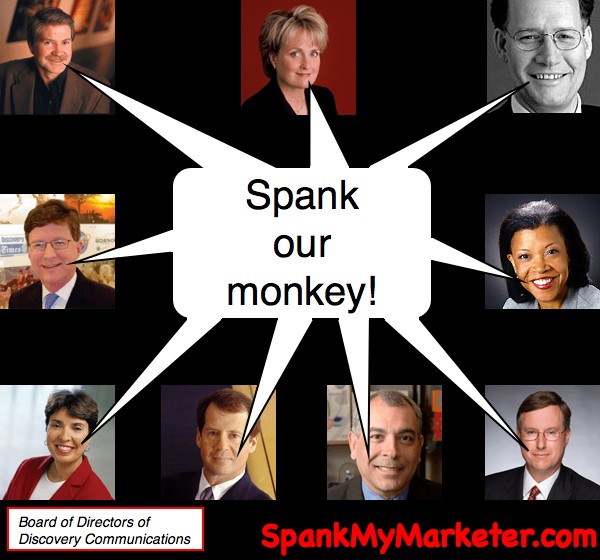 Right-click to download, or reference this image at:
http://spankmymarketer.com/images/comics/discovery1.jpg
Return to main gallery page



To easily make your own parody comics, check out The SpankMaker, the automatic comic-maker from SpankMyMarketer.com.