Home • About • Spank My Monkey: The Full Story • Media • Spank My Monkey Photo • PowerTV • Tenneco • Anti-Christ of the Hot Rod World Video • Richard Rawlings • Corky Coker • David Coker • SEMA • The Learning Channel • The Bullrun • Dodgy Monkey Media • Is that Fake Rust? • It Looks Like... • Sponsors • Comic Gallery • The SpankMaker • Parody and the Law • Legal Action • How You Can Help • Submit a Marketer • Feedback
---
Spank My Monkey Parody Comic: producshin company
Stephen Andrews and the brilliant marketing trio of: "Gas Monkey", "Spank My Monkey, and "Dodgy Monkey". To find out more about Stephen Andrews and Dodgy Monkey Media, see: Dodgy Monkey Media.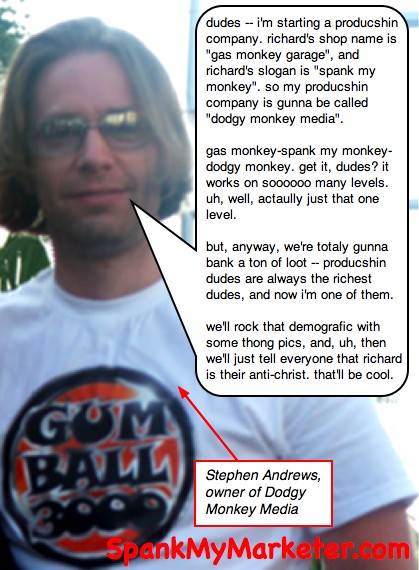 Right-click to download, or reference this image at:
http://spankmymarketer.com/images/comics/dodgymonkey1.jpg
Return to main gallery page



To easily make your own parody comics, check out The SpankMaker, the automatic comic-maker from SpankMyMarketer.com.